The Knights of the Night are an actual play podcasting group that plays different campaigns and releases the recordings of their sessions with some audio editing to include music and sound effects. KoTN began recording their sessions in late 2010, their first recording being Shit Luck. It was played in The World Of Darkness, and was run by Scott.
Latest Episode
Episode 411 (Night's Black Agents) - A Monkey Kicked A Man In Half
Players
Campaigns
Non-Play Episodes


Fan Creations (Spoilers Ahoy!)
Artwork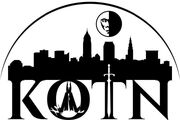 Community content is available under
CC-BY-SA
unless otherwise noted.