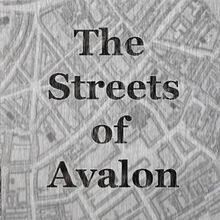 While not technically a KotN production, as it includes Tom as a player I'll list them here. It was put out by Chris of the Misdirected Mark Podcast. Below is the description of the game from the episode's release on Misdirected Mark.
Check out She's a Super Geek and Gaming and BS for more stuff from the other members of the Wednesday Evening Podcast All Stars.
 Welcome to the Streets of Avalon, an urban city actual play created and DMed by Brett B who puts the B in Gaming and BS, with Tom Flanagan of the Knights of the Night, Kevin Lovecraft – the glue of MMP and G&BS, Chris Sniezak of MMP, and Emily Morgan of She's a Super Geek. Enjoy and please, provide feedback as we're learning and going to get better at this as we move forward.

The Streets of Avalon are a hard place, and especially harder when trouble comes knocking at your door. Join Grandma, Fionn, Marus, and Vassar as they deal with a mysterious box that has come into their possession that everyone seems to want.
Downloads
Edit